Discovery Metadata
After completing the accessibility evaluation, the next step is to review the discovery metadata in the Discovery Metadata tab.
Each of the fields in this tab corresponds to a schema.org accessibility metadata property. The fields are pre-populated, whenever possible, from information in the Ace JSON report, but should always be verified for accuracy (some metadata may be inferred, as noted in the Ace report loading step).
There are seven discovery properties:
Accessibility Features

Accessibility Summary

Accessibility Hazard

Access Modes

Sufficient Access Modes

Accessibility API

Accessibility Control
If the publication did not contain discovery metadata, or if you made changes to what was found, click the "Generate" button at the bottom of the tab to create a new set of metadata tags.
Metadata compatible with the EPUB version you specified when setting the publication information will be generated and made available to copy and paste from a new dialog box.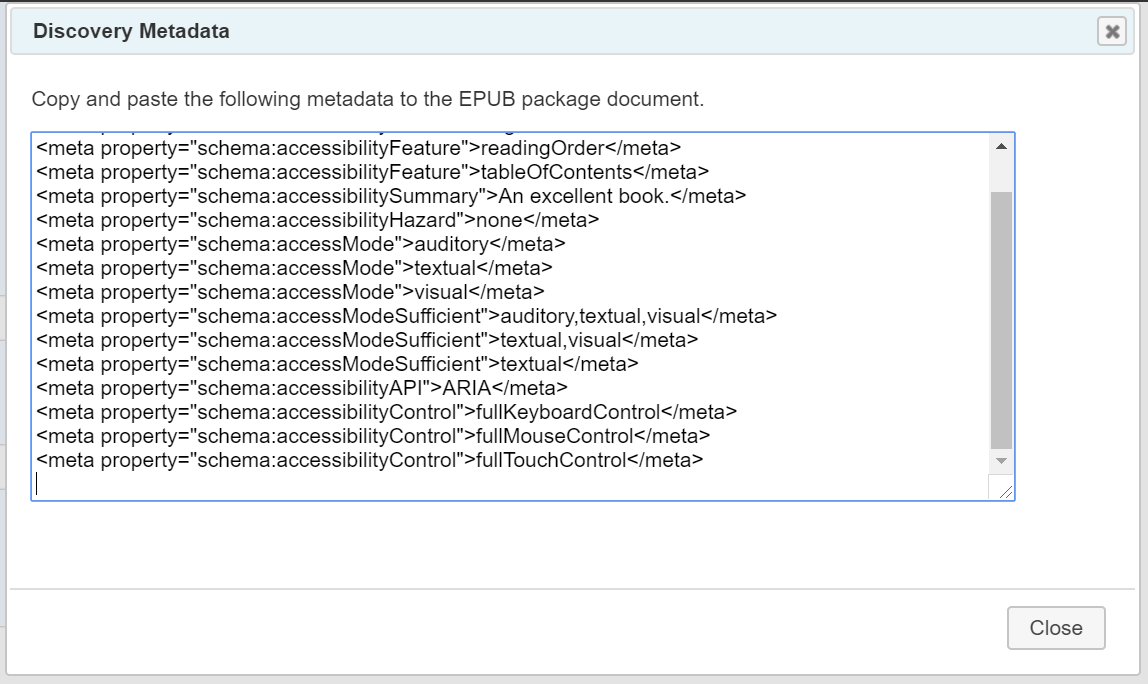 If any validation errors are encountered, an alert dialog will first appear asking you if you wish to continue or exit and check the problems. Errors are listed in the message panel that opens at the bottom of the page.
Note: It is recommended you include discovery metadata even if the publication fails conformance testing. It is a required component of the EPUB Accessibility specification.