Deleting an Evaluation
If you last saved an evaluation to the SMART server, you will be provided the option to delete the evaluation.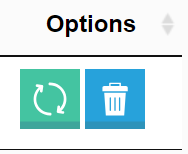 If you have a limited access SMART account, deleting an evaluation only removes any saved data from the SMART server — it does not remove the evaluation from the evaluation history. Entries cannot be removed from the revision history, as they are needed to manage access.
Caution: If you delete an evaluation, there is no way to resume it unless you have previously saved a copy of the evaluation locally.